Open Dialogue in an Inner London NHS Mental Health Service: An Anthropological Investigation
Hybrid Seminar with Dr Ruth Kloocke (Consultant Psychiatrist, Barnet Enfield and Haringey Mental Health NHS Trust) and Kiara Wickremasinghe (PhD Candidate in Social Anthropology, SOAS University of London)
29th October 3.30-4.30pm
Details:
We represent a collaborative research team of anthropologists and clinicians conducting an Anthropological Study of Peer-Supported Open Dialogue (APOD). 'Open Dialogue' is a Finnish innovation that adopts a person-centred and social network approach to delivering psychiatric crisis care. Our ESRC-funded study runs parallel to the ODDESSI randomised controlled trial which will assess the clinical- and cost-effectiveness of implementing Open Dialogue within the NHS. While the ODDESSI trial will tell us whether on average people in crisis receiving Open Dialogue do better than those receiving treatment-as-usual care, it does not reveal a wider range of contextual factors such as why, how or for whom Open Dialogue works or does not; this is what our ethnography hopes to shed light on. Our talk will explore the relationship between Open Dialogue and anthropology and reflect on the methodological, epistemological and ethical issues that arise when we occupy dual roles as practitioners and researchers.
Organised by Birkbeck CIRMH in partnership with the Department of History and Philosophy of Science, University of Cambridge
Join via zoom: https://us06web.zoom.us/j/87085701560
---
Previous Events:
Dangerous Liaisons: Mental Health, Qu'ranic Healing, and the Meeting of Cultures
Seminar with Prof Werdie van Staden (Nelson Mandela Professor of Philosophy & Psychiatry, Pretoria Medical School) and Dr Mohammed Aboulleil Rashed (Department of Philosophy, Birkbeck, University of London)
5th July 2021, 6-7.30pm
What happens when diverse worldviews come together in a healing context? In this talk Prof Werdie van Staden (Nelson Mandela Professor of Philosophy and Psychiatry, Pretoria Medical School, South Africa) and Dr Mohammed Rashed (Department of Philosophy, Birkbeck, University of London) present the case study of a Qur'anic healer from the Dakhla Oasis of Egypt. They will highlight his dual attempts to preserve traditional healing practices while seeking to modernise them in line with his understanding of scientific and medical procedures. The results are innovative yet, in this case, highly unpredictable and idiosyncratic practices. The talk will reflect on the significance of these observations for campaigns to introduce mental health services in communities such as the Dakhla Oasis. While cooperation with local healers is necessary, care must be taken in understanding the values they are keen to promote, and the cultural influences on their thought and practice. Only then can cooperation between traditional healers and mental health services lead innovation in a positive direction.
Register for this free event here.
Image credit: Dr Mohammed Aboulleil Rashed
---
---
Global Mental Health and Decolonization
Seminar with Dr China Mills (City, University of London) and Dr Harry Yi-Jui Wu (National Cheng Kung University, Taiwan)
9th June, 11am-12.30pm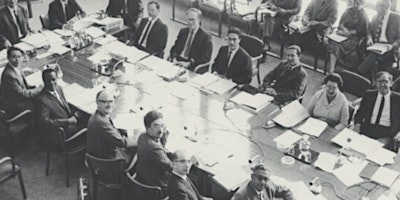 This seminar will examine how the universality of mental health has been constructed and negotiated, within the World Health Organisation and in the Movement for Global Mental Health. The speakers will consider how Global Mental Health stories its own history – frequently overlooking that psychiatric classification has long been global, especially in its quest for international comparison of 'mental illness'; and how it engages with critiques of its coloniality – often by framing colonialism as racist denial of care located in the past, rather than something that wraps around the present. Click here for further information.
---
Inaugural Lecture, Professor Leslie Topp: 'The Spaces We Are Reduced To'
7th June 2021, 6-7pm
Historic spaces of incarceration – the prisons and asylums of the long nineteenth century – have spatial reduction and monotony designed in. Built to control moral infection and manage poor and unruly populations, they removed not only liberty, but spatial self-determination of the most intimate kind, enforcing mass isolation for some and mass togetherness for others. In this lecture Professor Topp will explore what the pandemic has taught her about the phenomenon of spatial reduction in nineteenth-century carceral institutions – its centrality and yet strange invisibility in the scholarship. She will also propose that these institutions have lessons to teach us about our very recent spatial experiences. Click here for further information.
Image credit: 'High Royds Hospital, Menston, Ilkley, Yorkshire: a corridor' by Paul Digby, Wellcome Collection
---
Interdisciplinary Symposium on Sexual Violence, Medicine & Psychiatry
11th-12th May 2021
Birkbeck's Wellcome Trust-funded SHaME project is hosting online international, interdisciplinary academic symposium to explore the role of medicine, psychiatry and affiliated professions in debates about sexual violence. Confirmed keynotes include Sameena Mulla, Marquette University (Wisconsin, USA), Gethin Rees, Newcastle University (UK), Amie O'Shea, Deakin University (Australia) and Patsie Frawley, Waikato University (NZ).
Click here for further information.
---
Researching Lived Experience in the History of Mental Health
Workshop, 27th-28th April 2021

This workshop aims to bring together colleagues who are working with sources in relation to lived experience in mental health, to open up conversations about methodology, theory and positionality; and to consider the consequences for historical work of basing our histories on ideas of experience. We will also discuss how historians engage with the wider and politically contentious field of mental health studies. We adopt a broad understanding of history to include the recent past, and also welcome dialogue with other disciplinary traditions (e.g. anthropology, phenomenology) which have had more long-standing engagement with these questions.
Registration for this event is now closed. For information about future events on this theme please contact Dr Sarah Marks s.marks@bbk.ac.uk
Image credit: '16th Self Portrait' by Bryan Charnley (1949-1991)
---
Symposium: Old Age Care in Times of Crisis, Past and Present
8th-9th April 2021
co-organised by Birkbeck, University of London and London School of Hygiene and Tropical Medicine
Rarely in recent history has a global event such as the current pandemic brought care for older people into sharper focus. Now, as in the past, many struggle physically and/or mentally, due to a range of bio-psycho-social factors. The provision of care for older people has involved a host of actors from international agencies and NGOs, national and local governments, charities, campaigners, medical and care professionals, and, of course, families and community networks. What has happened to these endeavours, and to old age care as a whole, in times of crisis? Does crisis bring change – for better or worse – in the practices, ideas, cultures, laws, and structures surrounding care for older people?
In a two-day, cross-disciplinary symposium, we will consider how social care, medical treatment, and the rights of older people have been affected by major events such as war, pandemic, plague, famine, economic depression and austerity, industrialisation, political extremism, enslavement, colonialism, or environmental damage/collapse.
Reflections on old age care in times of crisis are welcome from any discipline across the humanities and social sciences at the symposium, which will be held over two afternoons BST on 8 and 9 April 2021. For more information, please go to Oldagecareintimesofcrisis.blogspot.com
Image: Wellcome Collection. Alzheimer's disease, artwork. Credit: Florence Winterflood. Attribution 4.0 International (CC BY 4.0)